Kontakt: hauptstadt [at] vizthink.de
Twitter: @vizthinkBER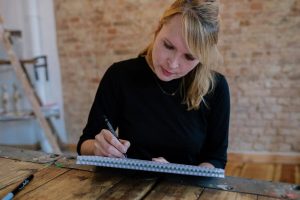 Nadine Roßa
A few years back I came across the topics Sketchnotes and Graphical Recording at a conference, and wondered why I hadn't stumbled upon it before.I realized that sketchnoting is its own design discipline and I started to spend more time honing my skill at it.
I am also an illustrator, visual designer, writer and editor and have 15+ years of experience in the field of Graphic Design. I started as a screen designer in the New Economy (oh, those crazy times), worked in Cologne and New York and moved to Berlin to study design. Since 2004 I am working as a freelance designer, since 2012 as a sketchnoter.
A wrote a book called »Sketchnotes – Visuelle Notizen für Alles« and teach sketchnotes and visual thinking to anyone who wants to learn it – and I believe that anyone should!
Website
Instagram
Twitter
Letzte News aus Berlin