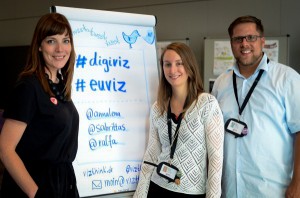 Hello 😉
Feel free to use the comment section on the bottom of the page to place your questions, ideas, findings, …
Table of content
Apps
Stylus
Additional Information
Photos
Feedback
Tweets
Apps
Paper by 53
Procreate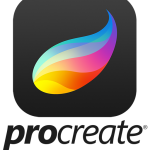 The fantastic thing of procreate is the Im- and Export of Artwork and Brushes and continiue using them on other iPads or just to back them up.
Adobe Ideas
Adobe Ideas Website (in EN)
Dots'n Grids useful to put it in the Background of your drawing
loads and loads of youtube videos, focused mostly on high end sketching and illustration
Stylus
Passive
The one from the shop round the corner
Active
Pencil is now working with other apps (e.g. Procreate) too.
Jot Touch (the Adobe one from Adonit)
Additional Information
Tech Workflows
Download all Workflows in a printable PDF-File (approx 7.5 MB)
Lindas Video on how to use the iPad for Sketchnoting
Photos

You can find all our workshop photos in our flickr Album.

Feedback
Tweets

Some of your #digiviz results on twitter (if somethings missing please leve the link in the comment section).
Always good to hear and to remind, thanks #euviz2014 #digiviz pic.twitter.com/5NqGj8BBNm

— Romain Couturier (@romaincouturier) July 24, 2014
@annalena @Sabrittas @ralfa Conversations with the elders: Ulrich, Lynn, Reinhard, David #euviz #ifvp #digiviz pic.twitter.com/WU1pz4oJoU

— CorpGraffitiArt (@CorpGraffitiArt) July 24, 2014
#euviz fun at #Digiviz pic.twitter.com/N7hKbNe7hZ

— Patricia Selmo (@SelmoPatricia) July 22, 2014
Check out what I made in @ProcreateApp #digiviz #euviz pic.twitter.com/5OOtRCf2Li

— Patricia Selmo (@SelmoPatricia) July 22, 2014