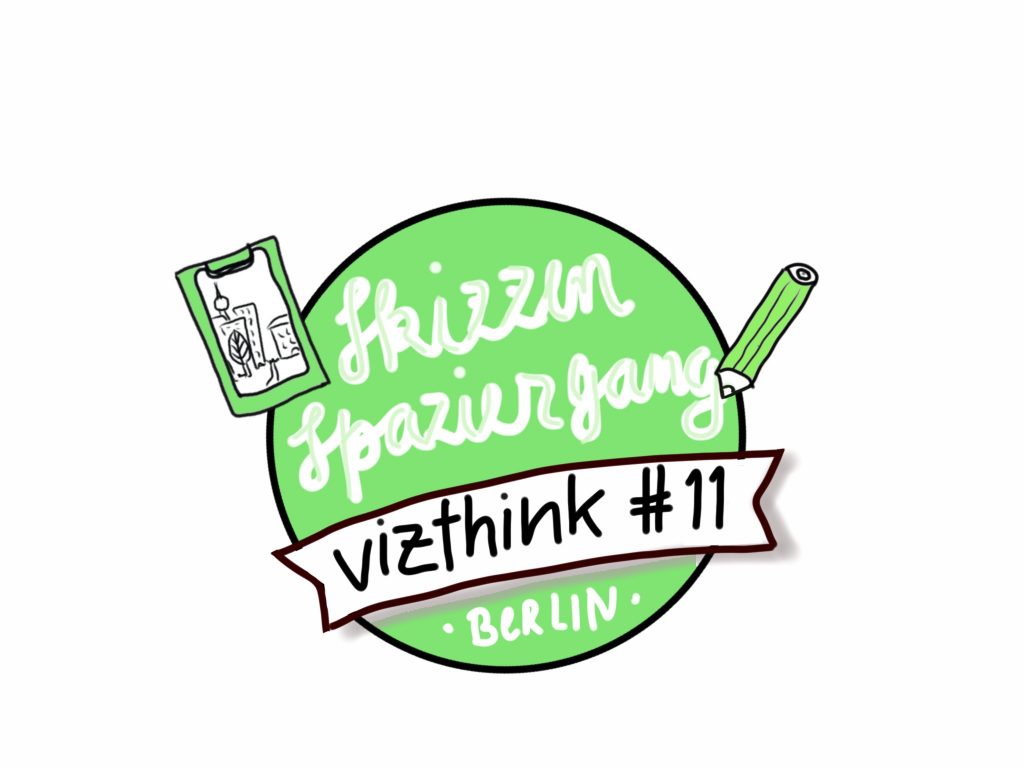 English version below ///
vizthink Berlin meets Skizzenspaziergang
Im (hoffentlich) schönen Monat Juni werden wir für unseren 11. Meetup durch den Abend geführt von der Berliner Illustratorin Doro Petersen.
Die Skizze ist die kleine ungeduldige Schwester der Zeichnung. Sie sprüht nur so vor Ideen, probiert gerne neues aus, und es kann ihr oft nicht schnell genug gehen. In diesem Meetup wollen wir durch den Kreuzberger kiez rund um den Moritzplatz spazieren und ihn skizzierend kennen lernen. Das genaue Hinschauen und die Hinwendung beim Zeichnen weckt neues Interesse und Wertschätzung am Kiez und lässt uns sensibel für unsere Umwelt werden. Wir probieren einzeln und gemeinsam vielfältige Methoden des Skizzierens aus.
Bitte bringt nach Möglichkeit euer eigenes Skizzenmaterial mit. Natürlich halten wir auch einige Zeichenklemm-bretter, Papier, Bleistifte und Radiergummie bereit, falls ihr irgendwas nicht da habt. Doro bringt übrigens auch das Buch "Marcovaldo oder Die Jahreszeiten in der Stadt" von Italo Calvino mit, für welches sie die Illustrationen gemacht hat. Da gibt es dann gleich schöne Beispiele und Anregungen für unseren eigenen Stadtspaziergang.
Wann & Wo
Mittwoch, 3. Juni 2015
18:45 Uhr Ankommen und Material
19.00 Uhr Start des Spaziergangs durch den Kiez
Treffpunkt: Betahaus Café
Prinzessinnenstrasse 19-20, 10969 Berlin
///
vizthink Berlin meets Sketch Walk
In the (hopefully) beautiful sommer month of June we will be guided through our 11th Meetup night by Berliner illustrator Doro Petersen. The sketch is the little impatient sister of the drawing. She's just full of ideas, loves trying new things, and often she can't move forward fast enough. In this meet up we will walk through the Kreuzberg Kiez near Moritzplatz and to get to know it sketching. Looking thoroughly and really being present when sketching arises new interest and appreciation of our 'hood and makes us more sensitive towards our surrounding. Together, we try individually and in groups, a diverse range of methods of sketching.
If possible, please bring our own sketching material. Of course, we'll have a few A4 drawing boards, paper, erasers and pencils there for you, if there's anything you don't have handy.
When & Where
Wednesday, 3rd of June 2015
18:45 hrs. Arrival and Material
19.00 hrs Start of the walk through the neighborhood
Meeting point: Betahaus Café
Prinzessinnenstrasse 19-20, 10969 Berlin
[contact-form-7 id="1731″ title="Anmeldung Meetup Berlin vizthink #11″]
[cfdb-count form="Anmeldung Meetup Berlin vizthink #11″] Anmeldungen bisher
Sichtbare Anmeldungen:
[cfdb-table form="Anmeldung Meetup Berlin vizthink #11″ show="your-firstname,your-name,beruf" filter="sichtbar=Ja" headers="your-firstname=Vorname,your-name=Name,beruf=Beruf" role="Anyone" permissionmsg="true" orderby="your-firstname,your-name"]